The BBI hosted its Creating a Sustainable Beverage Industry conference on Tuesday 18th and Wednesday 19th September 2012.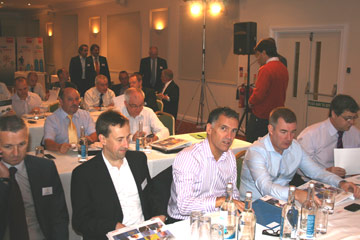 Its first conference for over a decade was held at Whittlebury Hall Hotel in Northamptonshire. The theme: Creating a Sustainable Beverage Industry.
The conference was opened by National Chairman Wyllie Woodburn, who outlined the importance of creating a sustainable industry as the pressures on recycling and waste is high on the agenda of European Governments and Local authorities.
A top line up of speakers from eight companies included Welf Jung from Rexam, who discussed the latest developments in can technology and recycling. Andrea Delgrosso and Arnaud Briard from Sidel, discussed the latest developments in Blowmoulding. Martin Stenson of APPE discussed where PET has come from together with new developments such as the PET jar, which can sustain very high temperatures.
A trio of speakers from Krones led by Andrew Wilson, who introduced Paul Chapple and Ged Mack who discussed Developments in Shorter Full Line Philosophy and Tony Knight of Papico discussed Paper versus Plastic labels - your choice.
The afternoon session kicked off with Volker Borngraeber of KHS discussing the latest developments in Filling Cans, Kegs and Glass, with Dave Dalton of British Glass discussing where glass is now and where it could be in the future. The final presentation was from Steve Wyard of OCME, who discussed the latest developments in Multipacking, Palletising and LGV's.
Copies of the speakers presentations are available on disc for £50.00 (+vat), please apply to jan@bbi.org.
Another BBI Conference is being planned to take place around Drinktec in September next year again at Whittlebury Hall. if you interested in attending or speaking please contact the BBI.
Photos of the event are available to view in the Conference Gallery.
Sponsored by: