The BBI held its second conference at Whittlebury Hall Hotel, near Towcester as a curtain raiser to what could be seen two weeks later at Drinktec in Munich.
Wyllie Woodburn, BBI National Chairman welcomed the delegates and speakers who had come to listen about the latest developments from the world leading engineers, Krones, KHS, Sidel, Aetna, Elettric80, GEA Procomac and OCME.
The conference kicked off with a presentation from Sidel, given by Giobbe Righetti, where he discussed Sidel's new customer service proposition in the UK, which following a customer survey, described how customers could optimise the cost of spare parts.
Raffaele Pace, from Sidel, then talked about their labelling division which produces 100 labelling machines a year and now has an installed base throughout the world of over 3,000 machines in 190 countries. The latest range of labellers now incorporate 100% direct drive motorisation which offers 40% less maintenance and 40% less electrical consumption.
Mikael Renstrom, from Elettric80, discussed a recent project that has been installed at the Barilla operation in Italy which has 85,000 pallets. It incorporates 54 laser-guided vehicles, high speed tray wrappers, smart stores, palletisers and robot based pallet wrappers.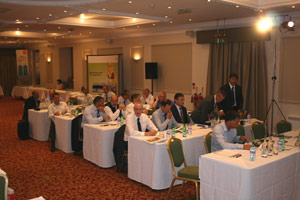 Klaus Holler, from Krones AG, discussed the Krones stand under the banner of Enviro - saving water, energy, media, reducing the complexity of the machinery, line efficiency and reducing installation times. Krones, as the largest supplier to the beverage industry, were showing a range of new innovations including Ergobloc L, Contiform Asepticbloc, and Evolite - a method of direct printing onto bottles up to 12,000b.p.h. They will also be displaying the Linaflex single deck Pasteuriser, Viscofill - a new dairy filler and Bevkeg - their one-way PET keg option, plus machinery from their daughter company Kosme.
Dave Walkinshaw of Aetna UK discussed the latest range of Aetna pallet stretchwrappers, that show not only great savings in the application of power pre-stretch film to pallets but also the technology used. Aetna has to precisely design the film application to suit the pallet being wrapped avoiding undue film wasteage. Dave also discussed some research that had been conducted in the US on the billions of dollars of damaged pallets that could not be sold.
Ed Binsted gave an overview of some of the highlights of primary and secondary packaging that was to be on show at Drinktec. This included new ideas in lightweighting PET, multilayers, functional flyweights, QR codes, new developments from the glass and can industries, latest closure design, adhesives and pallets.
Helmut Rath, from KHS, discussed the latest offering from the KHS stable, that included the new range of KHS fillers for beers, wines and soft drinks. He also gave information on KHS's version of the inkjet printing system in up to 12 colours directly onto PET bottles at speeds running up to 32,000b.p.h., together with the KHS collaboration with Petainer for their one way keg system.
Daniele Fusi, from OCME, described OCME's dry block system, which is an end-of-line system concept that concentrates all the stages of the dry end of a packaging line right through to the warehouse in a compact and integrated solution. This is something that saves on space, energy, staff, material and efficiency as dry block is delivered as a complete system making it essentially plug and play.
With GEA Procomac being the leaders in aseptic filling systems, Giulio Gnudi, outlined the latest range of aseptic fillers together with GEA Procomac's latest blowmoulders that are integrated into their Blowfill systems.
Wyllie Woodburn closed the conference thanking all the speakers for their efforts and how they enthused the audience about what would be on show. He commented that it was a shame more end users did not attend this year in the light of the papers delivered it was a great opportunity missed.
Photos of the event are available to view in the Conference Gallery.