Achievement Award

Krones UK Ltd donated the BBI Achievement Award to the British Bottlers' Institute. It is presented annually to a company or individual who, in the view of the BBI Council, merits some special recognition for contribution to the bottling industry during the year.
2014's Winner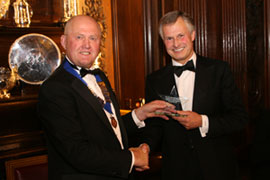 This year's winner was Andrew Cawthray, Chairman and Chief Executive of Cawingredients. The BBI Council were unanimous in selecting Andrew, his latest business Cawingredients is the most modern and most efficient soft drinks operation in the UK, with a third Krones line is due to be installed in the early part of next year.

Accepting the award Andrew paid tribute to both his current and past teams that have been part of the fantastic success story these past years. Andrew also gave a fascinating insight on his thoughts about the supply chain and customers which were thoroughly applauded the dinner guests.
Previous Winners
| | |
| --- | --- |
| 2013 | Fuller, Smith & Turner |
| 2012 | Halewood International |
| 2011 | St Austell Brewery |
| 2010 | Highland Spring |
| 2009 | Quinn Glass |
| 2008 | The Glenmorangie Company |
| 2007 | David Kaye |
| 2006 | Hedley Wright |
| 2005 | Britvic Soft Drinks |
| 2004 | Robert Neame CBE |
| 2002 | Bacardi-Martini |
| 2001 | Jeremy Browne |
| 2000 | Thomas Hardy Holdings |
| 1999 | Ed Binsted |
| 1998 | Hook Norton Brewery |
| 1997 | United Glass |
| 1996 | Merrydown |