Achievement Award
Krones UK Ltd donated the BBI Achievement Award to the British Bottlers' Institute. It is presented annually to a company or individual who, in the view of the BBI Council, merits some special recognition for contribution to the bottling industry during the year.
2015's Winner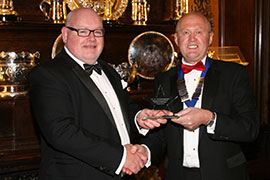 Wyllie Woodburn introduced this year's winner of the BBI Achievement Award, Mark Tyne, Director of Esterform Ltd. Mark started his career in the plastics industry working for Shell and after a number of positions in the fledgling PET industry started Esterform. As a private entrepreneur Mark has been at the format of this growing industry and thoroughly deserves his award.

Accepting the award Mark gave a very amusing and heartfelt revue of his time in the industry, proudly showing the very first Esterform bottle produced, which is just one of the many billions his company has produced over the years.
Previous Winners
| | |
| --- | --- |
| 2014 | Andrew Cawthray, Cawingredients |
| 2013 | Fuller, Smith & Turner |
| 2012 | Halewood International |
| 2011 | St Austell Brewery |
| 2010 | Highland Spring |
| 2009 | Quinn Glass |
| 2008 | The Glenmorangie Company |
| 2007 | David Kaye |
| 2006 | Hedley Wright |
| 2005 | Britvic Soft Drinks |
| 2004 | Robert Neame CBE |
| 2002 | Bacardi-Martini |
| 2001 | Jeremy Browne |
| 2000 | Thomas Hardy Holdings |
| 1999 | Ed Binsted |
| 1998 | Hook Norton Brewery |
| 1997 | United Glass |
| 1996 | Merrydown |