Achievement Award
Krones UK Ltd donated the BBI Achievement Award to the British Bottlers' Institute. It is presented annually to a company or individual who, in the view of the BBI Council, merits some special recognition for contribution to the bottling industry during the year.
2016's Winner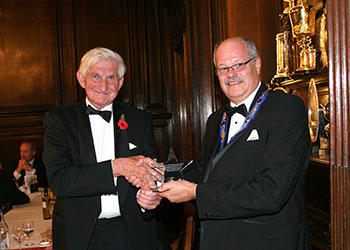 Ed Binsted introduced this year's winner of the BBI Achievement Award, Mr David Robinson of Frederic Robinson Ltd. Robinsons were praised for their investment in their business which included a new £10m Krones brewhouse, £6m investment in their pubs, upgrade to their packaging operation, a new visitor centre and finally one of the most exciting brand launches in the beer industry; TROOPER - in partnership with Bruce Dickinson, the front man and lead singer with heavy metal band Iron Maiden. TROOPER sold over 10 million pints in its first two years and is now sold in 55 countries around the world.

Accepting the BBI Achievement award, David Robinson said how delighted he was to receive it, as it was the first time that the company had been honoured for their investment in the brewing and packaging side of the business. David said that he was accepting the award on behalf of the whole team at Robinsons.
Previous Winners
| | |
| --- | --- |
| 2015 | Mark Tyne, Esterform |
| 2014 | Andrew Cawthray, Cawingredients |
| 2013 | Fuller, Smith & Turner |
| 2012 | Halewood International |
| 2011 | St Austell Brewery |
| 2010 | Highland Spring |
| 2009 | Quinn Glass |
| 2008 | The Glenmorangie Company |
| 2007 | David Kaye |
| 2006 | Hedley Wright |
| 2005 | Britvic Soft Drinks |
| 2004 | Robert Neame CBE |
| 2002 | Bacardi-Martini |
| 2001 | Jeremy Browne |
| 2000 | Thomas Hardy Holdings |
| 1999 | Ed Binsted |
| 1998 | Hook Norton Brewery |
| 1997 | United Glass |
| 1996 | Merrydown |