Achievement Award
Krones UK Ltd donated the BBI Achievement Award to the British Bottlers' Institute. It is presented annually to a company or individual who, in the view of the BBI Council, merits some special recognition for contribution to the bottling industry during the year.
2017's Winner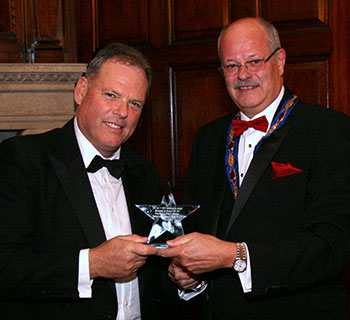 Ed Binsted, BBI President, presented to Will Watkins of Radnor Hills Mineral Water the BBI Achievement Award sponsored by Krones UK. Will Watkins has, over the past 25 years, built Radnor Hills into a £40million turnover business producing 260 million bottles and 100 million Tetra Paks per year from the factory in Knighton in the Radnor Hills.
In accepting his award Will Watkins paid tribute to the huge support he had received from the engineering and supply chain over the years, which had helped him develop his business to the level it had achieved to-date.
Previous Winners
| | |
| --- | --- |
| 2016 | David Robinson, Frederic Robinson Ltd |
| 2015 | Mark Tyne, Esterform |
| 2014 | Andrew Cawthray, Cawingredients |
| 2013 | Fuller, Smith & Turner |
| 2012 | Halewood International |
| 2011 | St Austell Brewery |
| 2010 | Highland Spring |
| 2009 | Quinn Glass |
| 2008 | The Glenmorangie Company |
| 2007 | David Kaye |
| 2006 | Hedley Wright |
| 2005 | Britvic Soft Drinks |
| 2004 | Robert Neame CBE |
| 2002 | Bacardi-Martini |
| 2001 | Jeremy Browne |
| 2000 | Thomas Hardy Holdings |
| 1999 | Ed Binsted |
| 1998 | Hook Norton Brewery |
| 1997 | United Glass |
| 1996 | Merrydown |