BBI Dinner is another great success
The annual BBI Gala Dinner held on the 1st November at The Vintners Hall was another great success.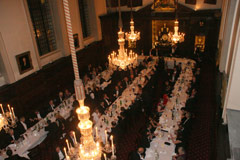 The evening began with the Awards ceremony, this year kindly sponsored by Drinktec 2013, where National Chairman Wyllie Woodburn and President Ed Binsted presented Gold, Silver and Diplomas for Excellence to the winners of various categories, following the competition that was held in July of this year. The 2012 Competition attracted a record number of entries in all the classes of Ale, Lager, Cider, Waters and Soft Drinks.
You can view the winners collecting their awards in our Winners Photo Gallery.
At the Gala Dinner, Wyllie Woodburn commented on the huge success the BBI has enjoyed this year. There has been some wonderful visits to: Paper Pallet, APPE, Britvic, Accolade Wines, Edrington, Tennents, Aston Manor Tiverton and St Austell Brewery. A full diary of visits will be circulated to BBI members at the turn of the year, there is likely to be a two-day visit to Ireland next year.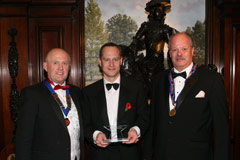 The BBI Achievement Award, sponsored by Krones UK was this year presented to Peter Horsfall of Halewood International, one of the UK's leading independent drinks manufacturers who have exprienced steady growth throughout the year.
The BBI held its first Conference in September at Whittlebury Hall, it is proposed to hold another next year on the 4th and 5th September again at Whittlebury Hall as a curtain raiser to Drinktec 2013. A number of the major exhibitors at Drinktec will give some information that will be 'new' at the show. A major incentive to attend the BBI Conference will be the opportunity to make significant savings on Hotel accommodation and Free entrance to the show. We are limited to 100 places for the Conference and the Hotel package so early reservations for places are strongly advised.
For further information on all the events for next year please contact us.