BBI Annual Gala Dinner, a wonderful success
The penultimate event in the BBI calendar of 2014 was the annual Gala Dinner and Awards ceremony, held again at The Vintners' Hall in London. The Vintners' this year was filled to capacity and the event was considered to be a huge success.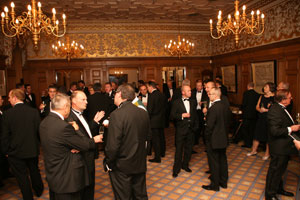 The evening started with a Champagne reception, then BBI National Chairman Wyllie Woodburn and BBI President Ed Binsted, presented medals and certificates to the winners of the BBI competition that was held in July.
Wyllie Woodburn, in his welcoming speech, paid tribute to Colin Barker, the previous Chairman, who sadly passed away in June. The charity for the evening, Cancer Research UK, benefited from the generosity of dinner guests buying raffle tickets and bidding for the two auction prizes. Wyllie also presented a bottle of Glenmorangie to Cliff Salmons who stepped down from the BBI Council this year after 20 years service.
In his speech Wyllie noted that 2014 had been another great summer for the industry - two in a row - which had done wonders for the industry with many bottlers planning and indeed pressing the button on significant investments for the coming year.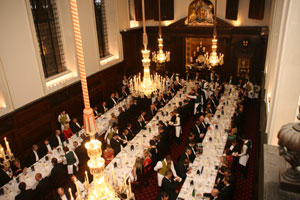 Looking ahead to next year, Wyllie mentioned the BBI will again be holding a Conference on the 16th and 17th September at Whittlebury Hall Hotel. The plan for the conference is to have four speakers from the drinks industry together with six speakers from the supply chain to discuss the hot topics of the day.
The BBI has for many years presented the BBI Achievement Award, sponsored by Krones UK to an individual or company who has made a major contribution to the industry. This year's winner was Andrew Cawthray, Chairman and Chief Executive of Cawingredients.
You can read more about the Achievement Award here.

You can view the gallery of winners accepting their awards here.