This year's Gala Awards Dinner held at The Vintners' Hall in London was another sell out event.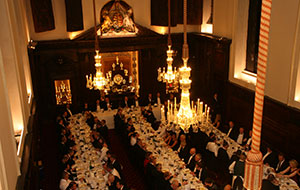 After the Champagne Reception, Wyllie Woodburn, National Chairman and Ed Binsted, President, presented the awards to this year's winners of the BBI Drinks Competition that was held in July.
This year the BBI welcomed back previous winners and a number of first time entrants who were successful in July, in a competition that was 25% larger than the year before. The judges at the time said the quality of products this year was the highest for many years so all the winners should be congratulated on their achievements.
Guests were then invited down for the Gala dinner in the Great Hall, Wyllie Woodburn in his last dinner as National Chairman welcomed hosts, guests and the sponsors of the evening; Krones, Papico, Evolution, Encirc and Makro Labelling. Wyllie, in his usual amusing manner, informed guests of the great success the BBI has enjoyed this past year. The site visits had all proved to be very successful, the Conference in September was the best attended out of the three organised so far with the BBI has being requested to run another conference in September 2016 and, of course, the Gala Dinner itself has proved to be the must attend event in the industry.
Wyllie Woodburn later introduced this year's winner of the BBI Achievement Award, Sponsored by Krones UK Ltd, Mark Tyne, Director of Esterform Ltd. You can read more about the Achievement Award here.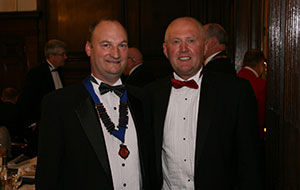 As Wyllie Woodburn was handing over the Chain of Office to a new National Chairman, Ed Binsted on behalf of the BBI Council and BBI Members, thanked Wyllie for all his efforts over the past four years, and presented him with a number of gifts as a token of thanks.
Wyllie then handed over the National Chairman's Chain of Office to David Griffiths, Operations Director of Westons Cider. David thanked the Council for honouring him with the National Chairman's role and then introduced the comedian Brendan Healey who rounded off another brilliant evening.

You can view the gallery of winners accepting their awards here.