This year's Gala Awards Dinner held at The Vintners' Hall in London was another sell out event.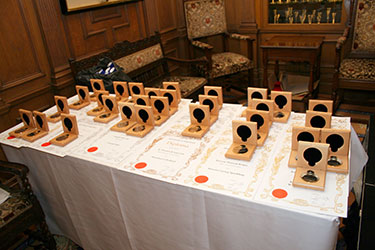 During the Champagne reception, that was kindly sponsored by Drinktec 2017, the awards from this year's BBI Drinks Competition were presented by David Griffiths, BBI National Chairman and Ed Binsted, BBI President.
This year's competition was a great success, the BBI welcomed back many previous entrants and winners together with several first-time winners. The judges at the drinks competition commented that yet again the standard of entered products was higher than before and with the number of entries increasing year on year it is an even greater achievement to win medals.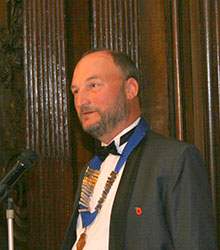 Following the presentations, guests were invited down to the Great Hall for the Gala dinner. National Chairman David Griffiths welcomed hosts, guests and sponsors Krones, Papico, Evolution, Makro Labelling and Drinktec 2017.
David informed guests of the excellent year the BBI had enjoyed. All the visits had been very well attended, the Conference held in September had the largest number of delegates in the series of four Conferences and the BBI has been asked to run another conference at Whittlebury Hall Hotel on 28-29 September 2017 and of course the Gala Dinner has again proved to be the must attend event in the industry.
Ed Binsted later introduced this year's winner of the BBI Achievement Award, sponsored by Krones UK, Mr David Robinson of Frederic Robinson. Robinsons were praised for their investment in their business which included a £10m new Krones Brewhouse, £6m investment in their pubs, upgrade to their packaging operation and a new visitor centre and finally one of the most exciting brand launches in the beer industry, Trooper - in partnership with Bruce Dickinson, the front man and lead singer with heavy metal band Iron Maiden. Trooper sold over 10 million pints in its first two years and is now sold in to 55 countries around the world.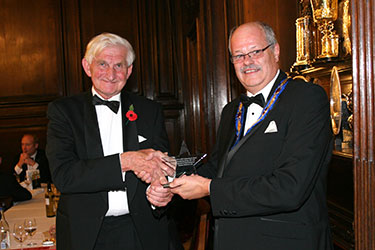 Accepting the BBI Achievement award, David Robinson said how delighted he was to receive it, as it was the first time that the company had been honoured for their investment in the Brewing and Packaging side of the business. David said that he was accepting the award on behalf of the whole team at Robinsons.
Next year's Gala dinner will be the 60th dinner, after some deliberation it has now been decided to hold the event again at The Vintners Hall, where everyone agrees it is such a unique venue and fitting for such an anniversary. If you wish to reserve tickets, then please get in touch with Jan Binsted at either jan@bbi.org.uk or Tel +44 (0) 1264 326478.

You can view the gallery of winners accepting their awards here.