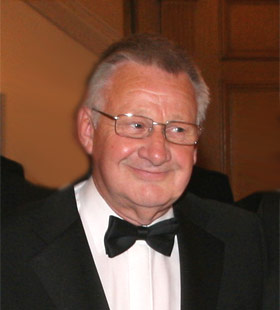 It is with great sadness to inform you that Colin Barker passed away on 25th June 2014.
I first met Colin when he was General Manager of Ling Systems, the conveyor company that he later went on to become Managing Director. For the past few years he has been managing Aetna UK, establishing the company as the market leader in pallet stretchwrapping and shrinkwrapping equipment.
Alongside his business activities, Colin was heavily involved in the British Bottlers' Institute, having been on the Council for many years and National Chairman for five years. Colin was also active in the PPMA and was appointed President some years ago.
Colin had a tremendous sense of humour and he made many friends within the industry and in his personal life. He was one of those guys who you really looked forward to seeing as his presence would always light up a room. He was a devoted father to his three children Paul, Andrew and Sara, together with his grandchildren, taking them regularly to watch his lifelong favourite team, Arsenal at the Emirates Stadium.
The industry has sadly lost a key leader, all his friends will mourn his passing but, as he would have wished, we remember him for all those great moments we spent in his company.
Ed Binsted, BBI President