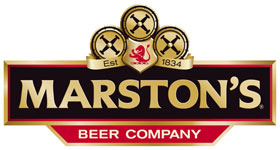 The first of the BBI visits this year was to Marston's Brewery in Burton on Trent. Hector Macdonald, Packaging Manager and Genevieve Upton, Bottling Manager hosted the visit.
Hector gave an informative account of both his time at the brewery and how the company has prospered in recent times, resulting in the company making an £8m investment in the brewery at Burton over the past year. The bulk of this investment being a state-of-the-art KHS glass filling line.
The new KHS line has been designed to fill Marston's own ales and contract customers' ales at 16°C running at 300bpm and bottle sizes ranging from 275, 330, 500 and 660ml. Flexibility has been the key to the design of the line for their cask conditioned ales. The company is currently producing 150 to 200 SKU's of their own products rising to 400 with their contract work for some well-known regional brewers such as Adnams, Batemans, Black Sheep, Daniel Thwaites and Brains. The company is now on track to double its current output over the next 4 to 5 years.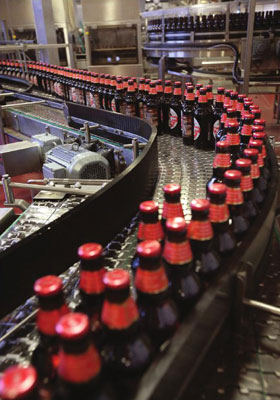 The KHS line is already operating at 92% efficiency with the 84 head filler block housed in a special clean room was specified to fill bottle condition ales and the KHS labeller applying wet glue labels. The Kister packer is able to pack boxes, tray and shrink. There was a minor challenge fitting the large Kisters unit in the confined space inside this wonderful old brewery which is sited in the centre of the town. All hopes and aspirations were achieved with Marston's being very pleased with the outcome of the installation.
Marston's also have another 500bpm cold fill line that was installed in the 1990's, this was again based around a KHS filler, Krones pasteuriser, Kosme Labeller, Kister packer and ACMI palletiser. A small kegging unit for Petainer kegs has also been added, this is mainly for either export or outside summer functions where it is notoriously difficult to get expensive steel or aluminium kegs returned.
It was a very informative visit with a thought provoking Q&A session covering some of the hot topics concerning glass and label supply in the UK.
For further details about Marston's visit www.marstons.co.uk.