BBI Scottish Visit
03-04/07/12
Our two hosts this year were Tennent Caledonian Breweries and Edrington, who both gave a fascinating insight to the Scottish Brewing and Scotch Whisky industry, both made the BBI delegates most welcome and provided some great hospitality.

Tennent Caledonian Breweries
03/07/12
The first visit to Tennents was hosted by Martin Dougan, who gave a fascinating insight to the company that brought Lager brewing to these shores in 1885. Tennents have created many milestones over the years being the first UK Brewer to put lager into a can in 1935, and then again in 1955 introducing the first flat topped can .The memorable Lager Ladies adorned the cans from 1962 and in 1963 they launches the first draught lager.
Now owned by C & C, some major investment has taken place at the brewery most notably being the installation of the 50,000 B.P.H. bottling line. The line was originally installed in Clonmel in Ireland for the first Magners project, but it was re-sited in Glasgow towards the end of last year.
CBI handled the removal and re-installation that included some new CBI conveyors a new Sander Hansen Pasteuriser from Krones UK, and a Renner PSL Labeller and a new Mead Packer. The Tennents site is on a number of floors so the bottles have to be conveyed from a lower floor via a Paxon bottle transfer conveyor. Similarly an Ambaflex rotary conveyor transport the finished packs back down to the Ocme palletisers.
The whole line was fully reported in the July issue of International Bottler & Packer on page 9 following the official opening by The First Minister the Right Honourable Alex Salmond. The launch of the bottling line is part of an ambitious plan for growth and development at Tennents, which has created 50 new jobs. A few weeks ago the first exports of Tennent's Export was shipped to Ireland, Canada, Australia and Italy.
The brewery also houses a keg filling line capable of filling 30, 45, 50 and 100 litre kegs together with a KHS 1800 C.P.M. can filling line which has recently been upgraded with the installation of a Graphic Packaging Multipacker. On an average week the can line produces 5million cans.
It is great to see that since C & C purchased Tennents, investment in advertising has restarted, together with further investment in the 17 acre site, which can produce 2 million Hectolitres or 200 million litres a year.
For further details visit www.tennents.com.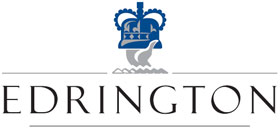 The Edrington Group
04/07/12
Our second visit was to Edrington, where the delegates were hosted by Mike Rose, Director Technical Services. Readers may recall that Edrington is now what was originally Robertson & Baxter and latterly Clyde Bonding.
Since its foundation in 1855 by William Alexander Robertson, Edrington now has a turnover in the year 2011-2012 of £556m with profits of £149m, the company donates £14m annually to Scottish good causes. The group now employs a total of 2100 employees and produces around 85 million bottles a year. Its notable products are 3.4 million cases of Famous Grouse, 1 million cases of Cutty Sark, 780,000 cases of Macallan and 110,000 cases of Highland Park.
In 2008 Edrington acquired Brugel Rum in the Dominican Republic where 1100 staff produce 4.4 million cases for both domestic use and export, the notable export market being Spain where 900,000 cases of Brugel are sold annually.
Interestingly 86% of the current volume is Blends with 14 % in Malts, but 49% of the profits come from Malts, the company very much see the global growth strategy in Malts.
The site was built in 1966, it now houses 10 bottling lines and the most recent investments have been in a 600 b.p.m line, a 200 b.p.m line that have a gift carton capability and last year £2.6m was invested in a 150 b.p.m line.
Edrington operate Lean manufacturing, customer service to the company is critical to them they have a target of 98% delivery on time and in full, at present they are achieving 99.4%!
Over time Edrington have used the services of many of the major bottling engineers such as Krones, MBF, Langenpac, Atlanta, PE, Linx, Cavagnino & Gatti, Robino & Galandrino, Bertolaso and Bortolin Kemo.
For further details visit www.edringtongroup.com.
Our thanks to both host companies for making this year's Scottish trip really interesting.